ICMR's London Insurance Market Index
Lloyd's of London mark to market valuation
The London Insurance Market Index (LIMI) is the first ever real-time mark to market evaluation of the Lloyd's of London insurance market.
The Index provides a truly global benchmark to measure value creation for the global specialty re/insurance industry, showing real-time capital market sentiment towards a predominantly opaque industry, as well as providing a potential equity investment proxy for Lloyd's of London.
The Lloyd's of London Insurance Market
The Lloyd's market is the leading global speciality property & casualty insurance market with annual premiums in excess of £35bn and which sets global pricing on business many times this amount.
Today, over 80% of Lloyd's capital is provided by global insurance and reinsurance companies, the majority of whom are themselves publicly listed and who use Lloyd's as a platform for underwriting.

Capital investment in Lloyd's, and therefore participation in value creation, has been the preserve of these global insurance and reinsurance companies for many years.
Since 2003 the Lloyd's internal performance management directorate has monitored the performance of the marketplace closely and controls who can own a Lloyd's business, who can start a business and who can grow its business, to protect the Lloyd's brand, rating and global licenses; in effect who can and cannot join the Lloyd's "club".
This approach has attracted and encouraged more professional global insurance businesses to participate and invest in the Lloyd's market.
ICMR's London Insurance Market Index (LIMI)
The LIMI shows real-time mark to market changes in the value of the companies whom Lloyd's of London entrusts with underwriting 75%+ of its annual gross premium. As such, and using our weighting algorithm, it represents an accurate proxy for mark to market changes in the value of the Lloyd's of London insurance market as a whole. It also represents a truly global insurance equity benchmark.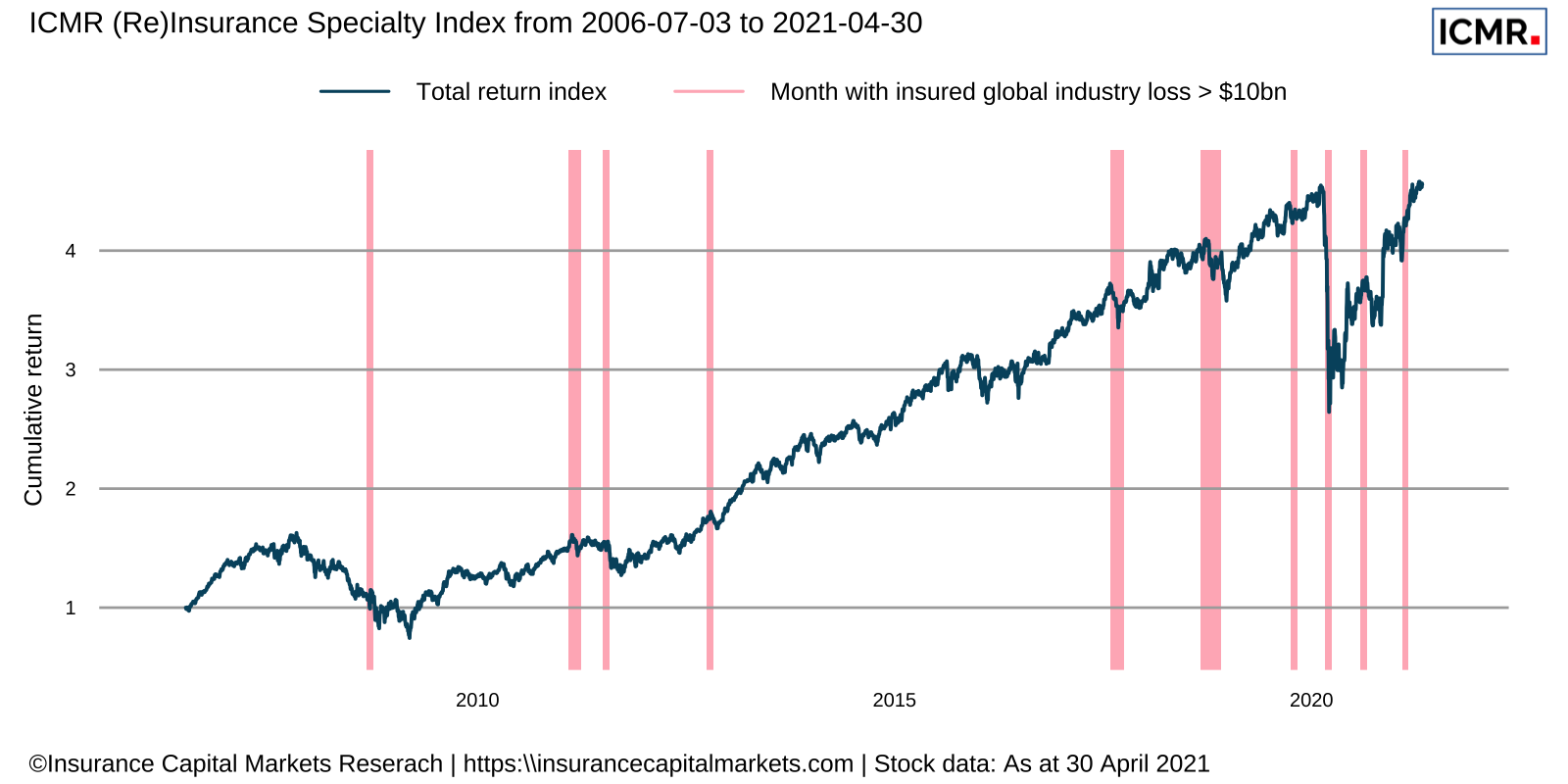 The LIMI offers a more concentrated exposure to specialty property & casualty-driven returns than existing more generalist insurance equity indices such as the S&P Insurance Select and Dow Jones Insurance Titans 30.
Comparison of returns against major equity market indices can offer further insight into the underwriting and reserving cycles.
Potential for liquid & scalable participation in value creation at Lloyd's
The LIMI will give investors access, by proxy, to the value creation potential available from underwriting without the frictional costs of entry into the Lloyd's market.
Historically, the LIMI has been a very close proxy for the cross-cycle average returns of Lloyd's of London. Furthermore, it should be noted that it has delivered these returns without the need to become a fully regulated participant in the Lloyd's market. Consequently, the LIMI has the benefit of daily liquidity and scalability unavailable to participants at Lloyd's with the downside being increased volatility.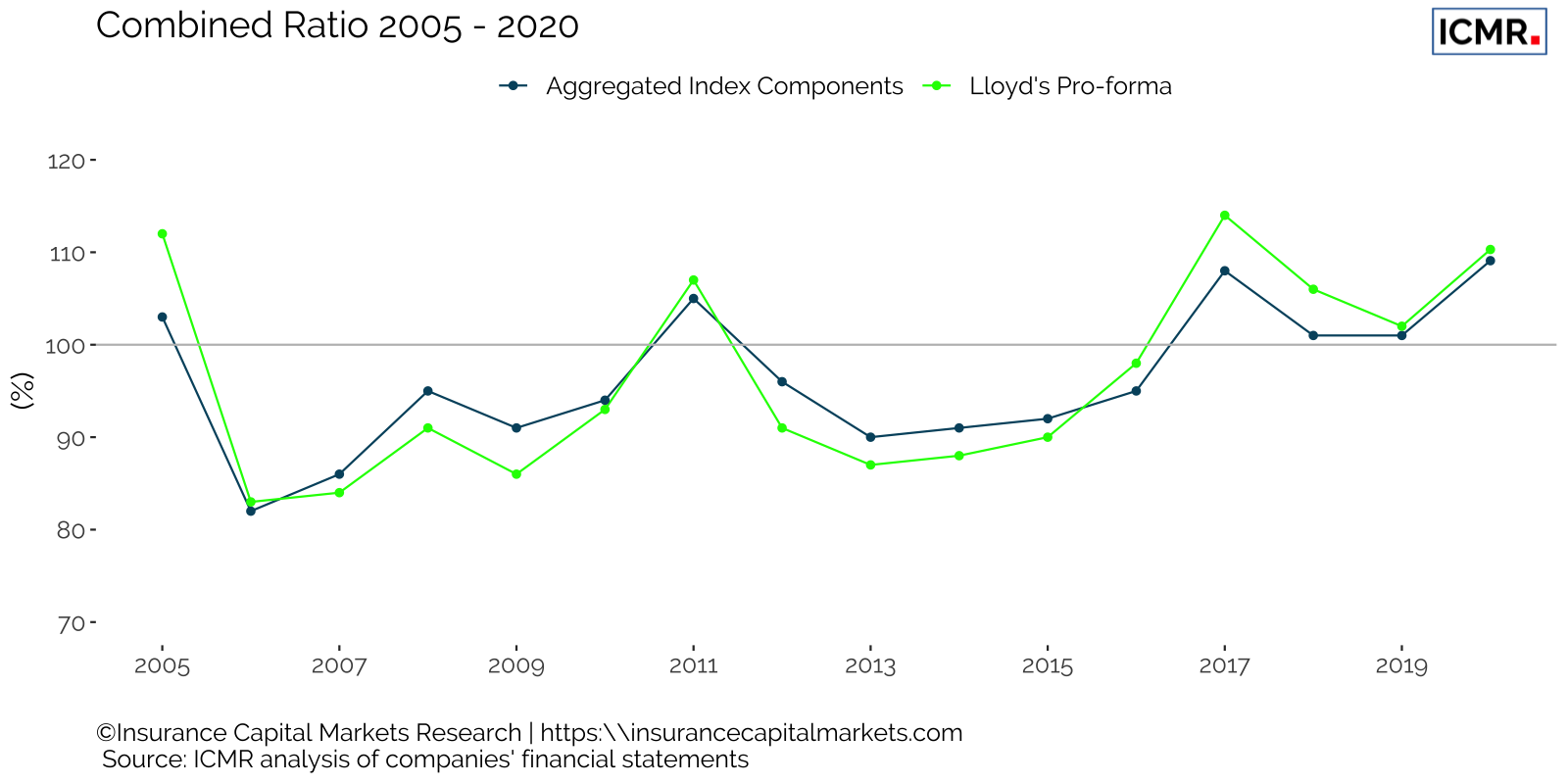 Index construction
The Index is constructed entirely from global publicly listed daily share price data with a transparent methodology.
The constituency of these parent companies has evolved considerably over time, through take-private transactions, M&A and trade sales, and currently stands at 30 listed companies.