Premiums trumps profitability for underwriters' emoluments
A successful Lloyd's underwriter is a good sales person first and foremost
Many factors will influence the compensation package for an active underwriter at Lloyd's. However, underwriting profitability is certainly not the most important factor. It appears that underwriters first role is to grow the business.
Indeed, reviewing the emoluments figures from the 2021 financial statements of syndicates suggests gross written premium (GWP) is a better proxy than profitability for the compensation package of active underwriters.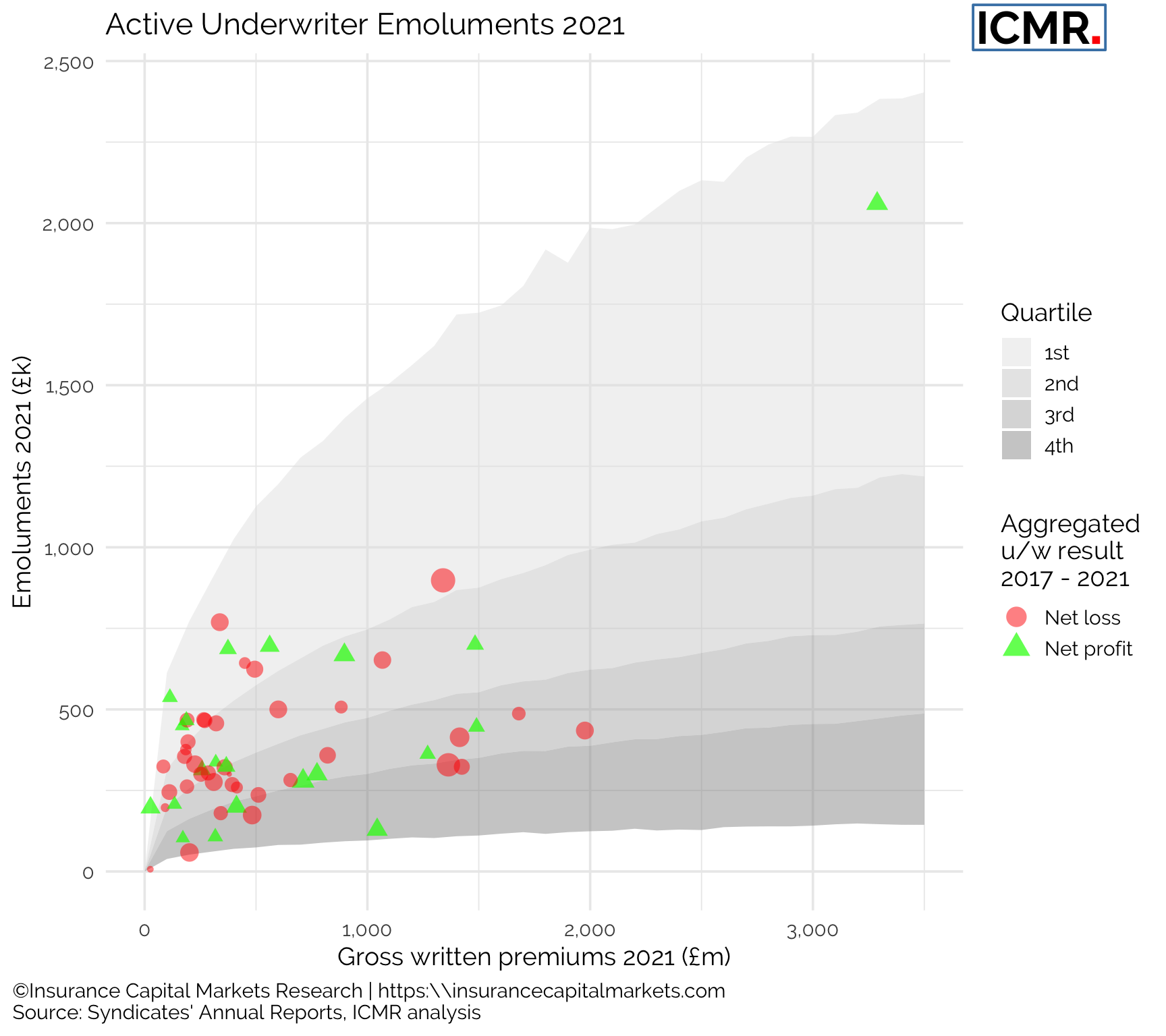 Although, there is a lot of variability in the data, as there is in the role and profile of an active underwriter, it does appear that typically an active underwriter achieves a 4% increase in their emoluments for every 10% increase of GWP their syndicate underwrites.
This shouldn't be surprising in that valuation in our industry tends to be a multiple of book value rather than earnings. The quicker the growth, the greater the absolute value created by price to book multiple. Preferably that growth should be profitable, which the graph shows has not been the case for many syndicates in the aggregate over the last 5 years. Hopefully, as we appear to be on an upward trend in both underlying rating and book multiples (the war in Ukraine and COVID aside) this graph over the next few years should be mostly green, meaning active underwriters are creating some real value for their investors.
Reviewing the Lloyd's 2021 gross written premium league table shows that almost all of the larger entities have been in business for decades, with many of them now part of bigger listed global specialty (re)insurance groups.
Contact ICMR for more in-depth Lloyd's analysis, benchmark reports, syndicate valuation and the RISX index. RISX is the world's first equity index for the global specialty (re)insurance sector (calculated and administered by Morningstar; Bloomberg ticker symbols 'RISX' & 'RISXNTR').